What is Reformation Church Detroit?
CORE VALUE
Gospel
God originally created man in His own image, and free from sin; but, through the temptation of Satan, he transgressed the command of God, and fell from his original holiness and righteousness; whereby his posterity inherit a nature corrupt and wholly opposed to God and His law, are under condemnation, and as soon as they are capable of moral action, become actual transgressors. But Jesus Christ, the only begotten Son of God, having taken upon Himself human nature, yet without sin, He perfectly fulfilled the Law, suffered and died upon the cross for the salvation of sinners. He was buried, and rose again the third day, and ascended to His Father, at whose hand He ever lives to make intercession for His people. In those who are his people are justified, God's gracious and full acquittal of sinners, who believe in Christ, from all sin, through the satisfaction that Christ has made; not for anything wrought in them or done by them; but on account of the obedience and satisfaction of Christ, they receiving and resting on Him and His righteousness by faith.
CORE VALUE
Mission
From the day God created the first man, God planned that man would rule his world and have children that loved God and reflected his image – like a little child that looks and acts like his Dad.  But because of man's rebellion throughout our existence, we have often ruled the world unjustly and produced descendants that hated God and were in love with creation instead of the Creator. However, through the saving and regenerating work of Jesus Christ, who was the first missionary, left the lofty pinnacles of heaven and came down to his creation, which is called earth, has called followers to himself by his grace. The followers' mission is to be ambassadors of Christ by sharing the gospel with others and to live life with men and women who love God and reflect the image of Christ. Mission isn't simply something we do; it is part of who we are.  We are missionaries.
CORE VALUE
Family
We believe that the church is the people of God — the family of God.  When a person begins to follow Jesus, they join a worldwide communion of people who once were sinners and enemies at war with each other and God, but have become sons and daughters of the Father and little brothers and sisters of Jesus Christ.  We believe when believers are in intimate community with each other they become an outpost of hope and love to a world full of hatred and despair.  The family of God becomes a visible witness to the seen and unseen that God is wise and that his plan to save His people is real. We are committed family members, the church is not like a family it is a family. We are adopted. We are responsible.
We believe the presence of Christ through His church would contribute to the relief of the poor, the encouragement of the downcast, the healing of the broken and the salvation and freedom of those captive by sin, through the Gospel of Jesus Christ.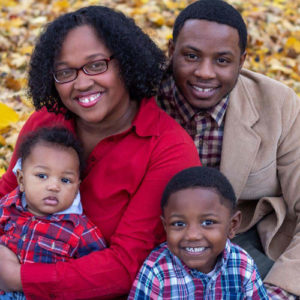 Malcolm, the lead pastor of RCD, and Maisha Griswold moved to the East side of Detroit in the winter of 2017 to plant Reformation Church Detroit. They have been married for five years and have six beautiful kids, May'Riana, Ariana, Maleah, Harmonie, Malcolm II, and Philip.
But Malcolm's story begins in Kansas City, Missouri with a single mom, addicted to crack, who was struggling to take care of him and his three brothers. He looked up to his brothers. They were his role models, but they were also drug dealers, gangsters, and pimps. It wasn't long before Malcolm began dealing drugs himself. He was only 12 and then at the age of 14 he was arrested for selling drugs to an undercover cop. The prosecutor on the case worked hard to get 15-25 years in jail for Malcolm, but by the mercy of God, he was only sentenced to about three days in juvenile detention before being released on house arrest for 30 days. Two years later, his oldest brother, a drug dealer, became a Christian. Even at the age of 16, Malcolm knew that whatever changed his brother could also change him. For three years, his brother faithfully shared the gospel with him. In 2009 he was invited to a men's retreat with his brother and his church and it was there that Malcolm found Christ. He became a faithful member of Macedonia Baptist Church and was deeply involved in their Streets Ministry. Compelled to proclaim the saving power of Christ, Malcolm would often take a bullhorn out to where he used to sell drugs and tell them about Jesus.
Evangelism is Their Passion and the Inner-City is Their Burden
Malcolm attended Western Baptist Bible College in Kansas City, Missouri from 2010-2013 and Carver baptist Bible College for a time. Under the leadership of Pastor Timothy Clay Sr. at Rock of Salvation Church, Malcolm was licensed to preach. In their first five years of marriage, Malcolm and Maisha were involved in five different church plants.
So it comes as no surprise that God would lead them to Detroit, MI to start up Reformation Church Detroit. Situated in East Detroit, RCD provides many opportunities for Malcolm to minister to young men and women who are growing up in the same darkness that he had experienced at the same age. They sell drugs because it's the fastest and easiest way to earn money and, for some, it's all they know. And without an education to get a good paying job, there isn't much hope for doing anything else. Young women sell their bodies because they have been taught to earn money by any means necessary. There is deep darkness in the City of Detroit and our prayer is that RCD will be the light of Christ to the people of this community. And that through the Gospel of Jesus Christ we will see the salvation and freedom of those held captive by sin, the healing of the broken, the relief of the poor and the encouragement of the downcast.