What is Reformation Church Detroit?
We believe the presence of Christ through His church would contribute to the relief of the poor, the encouragement of the downcast, the healing of the broken and the salvation and freedom of those captive by sin, through the Gospel of Jesus Christ.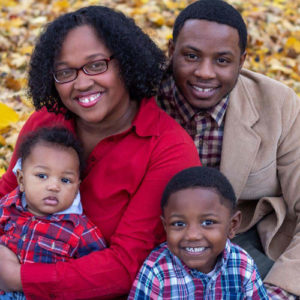 Malcolm, the lead pastor of RCD, and Maisha Griswold moved to the East side of Detroit in the winter of 2017 to plant Reformation Church Detroit. They have been married for five years and have six beautiful kids, May'Riana, Ariana, Maleah, Harmonie, Malcolm II, and Philip.
But Malcolm's story begins in Kansas City, Missouri with a single mom, addicted to crack, who was struggling to take care of him and his three brothers. He looked up to his brothers. They were his role models, but they were also drug dealers, gangsters, and pimps. It wasn't long before Malcolm began dealing drugs himself. He was only 12 and then at the age of 14 he was arrested for selling drugs to an undercover cop. The prosecutor on the case worked hard to get 15-25 years in jail for Malcolm, but by the mercy of God, he was only sentenced to about three days in juvenile detention before being released on house arrest for 30 days. Two years later, his oldest brother, a drug dealer, became a Christian. Even at the age of 16, Malcolm knew that whatever changed his brother could also change him. For three years, his brother faithfully shared the gospel with him. In 2009 he was invited to a men's retreat with his brother and his church and it was there that Malcolm found Christ. He became a faithful member of Macedonia Baptist Church and was deeply involved in their Streets Ministry. Compelled to proclaim the saving power of Christ, Malcolm would often take a bullhorn out to where he used to sell drugs and tell them about Jesus.
Evangelism is Their Passion and the Inner-City is Their Burden
Malcolm attended Western Baptist Bible College in Kansas City, Missouri from 2010-2013 and Carver baptist Bible College for a time. Under the leadership of Pastor Timothy Clay Sr. at Rock of Salvation Church, Malcolm was licensed to preach. In their first five years of marriage, Malcolm and Maisha were involved in five different church plants.
So it comes as no surprise that God would lead them to Detroit, MI to start up Reformation Church Detroit. Situated in East Detroit, RCD provides many opportunities for Malcolm to minister to young men and women who are growing up in the same darkness that he had experienced at the same age. They sell drugs because it's the fastest and easiest way to earn money and, for some, it's all they know. And without an education to get a good paying job, there isn't much hope for doing anything else. Young women sell their bodies because they have been taught to earn money by any means necessary. There is deep darkness in the City of Detroit and our prayer is that RCD will be the light of Christ to the people of this community. And that through the Gospel of Jesus Christ we will see the salvation and freedom of those held captive by sin, the healing of the broken, the relief of the poor and the encouragement of the downcast.